Radar Server ERPS1-1U Rack Mount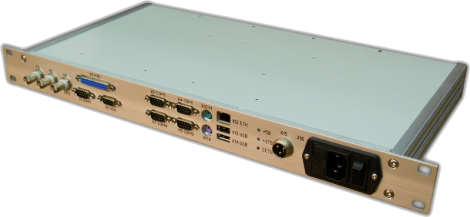 Version for 19 '' racks
The ERPS1 serial module is housed in a 19 '' housing just 1U high! The case is protected from dust, there are no fans inside the case, which contributes to the long life of the product. All connectors are located on the front of the device, providing ease of installation
Radar compatibility
The radar processor allows you to mate without additional devices with a wide range of domestic and foreign radar. For interfacing with external systems, you can use up to 6 ports with RS-232/422/485 interfaces. Digital inputs are optocoupler.
Dual Power
The basic equipment of the device includes two power sources: from a 220 V AC network and from 9 ... 36 V DC with a backup input.
Modular Architecture
The central processor of the system is designed as a standard industrial module of the ETX format. Depending on the tasks you can optimize the performance of the system and its power consumption.
Applications
Modernization of old radars for transmitting radar images over Ethernet, TCP / IP networks
Bridge navigation systems
Shore indicator posts
Ship Traffic Control Systems
Archiving systems of primary radar information
Security systems for facilities and water areas

 
Application Support
The radar server is supported by a line of software products developed and supplied by Marine Complexes and Systems Plus LLC.
Basic technical specifications
System Features:
Kontron ETX-LX, 500MHz, 512MB of RAM
Kontron ETX-DC, 1600MHz, 512MB-1GB of RAM
512MB-2GB solid-state drive

 
Radar Processor:
ADC Parameters: 10 bits, up to 80 MHz, 2 channels
Pairing with any digital angle sensors, parallel code up to 13 bits
Intersubject and inter-beam digital filtering
Analog gain profile in range (TAG)
Issuing commands synchronously with the rotation of the antenna (blocking radiation, etc.)
Hardware selection of targets from primary radar information
Automatic target tracking
Primary RLI packaging of 8.4.2 bits
Hardware control of input signals

 
Interfaces:
2 BNC: Analog ADC Inputs
1 BNC: radiation trigger pulse
7 digital inputs from opto-decoupling radar
8 digital TTL radar control outputs
6 UART: RS-232 (2), RS-422/485 (4)
1 LAN Ethernet 100base TX
2 USB
1 VGA
PS / 2 (keyboard + mouse)

 
Other:
Meals: 220AC; 9 ... 36DC with reservation
temperature range (-25˚С… + 55˚С)
Relative humidity up to 98% at 30 ° C
Dimensions 19 '' 1U

 
Software:
Operating system: QNX 4.25, QNX 6.0
Special software for the Baltika radar server