Shipborne radar computer RVS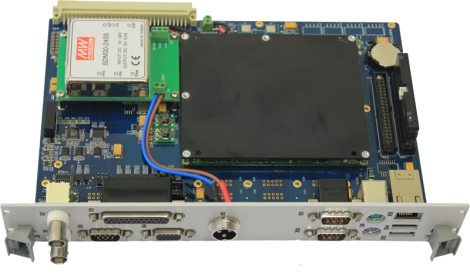 Purpose
RVS is intended for receiving, processing and transmitting over the 10/100 Base Tx Ethernet network primary radar information from navigation radars for integrating equipment from various manufacturers. At the same time, the processing and presentation of radar images in the form required for display on the screen of a technological video monitor is performed.
Design Features
The RVS module is made in the "Euromechanics - 6U" construct of the VME standard. The radar processor and the motherboard of the ETX processor module are located on the same board.
Low Power
The low power consumption of the PBC module allows the use without mechanical cooling systems.
Applications
Shipboard automated control systems (ACS)
Modernization of old radars for transmitting radar images over Ethernet, TCP / IP networks
Autonomous radar indicator for ship and coastal radars
Bridge navigation systems
Archiving systems of primary radar information

 
Application Support
The radar server is supported by a line of software products developed and supplied by Marine Complexes and Systems Plus LLC.
Basic technical specifications
Radar signal processing:
66MHz digitization frequency;
The number of quantization levels is 256;
2.25m range resolution;
Intersubject and inter-beam digital filtering;
The number of pulses of the antenna position sensor per revolution is 180-16384.
ETX-LX Processor Module:
Processor: AMD LX800;
Frequency: 500 MHz;
Chipset: AMD GEODETM CS5536;
DRAM memory: DDR-SDRAM 512 MB;
Flash Drive: CompactFlash Socket Type II.

 
Other:
Power 5V or 27 V;
Low power consumption (up to 15 W);
According to the conditions of placement and operation it belongs to the group 2.1.1 according to GOST RV 20.39.304;
Dimensions 235 × 190 × 40 mm;
Weight 0.6 kg;
The product is designed and manufactured under control.